Reelvision Print helps customer to meet rising demand for face masks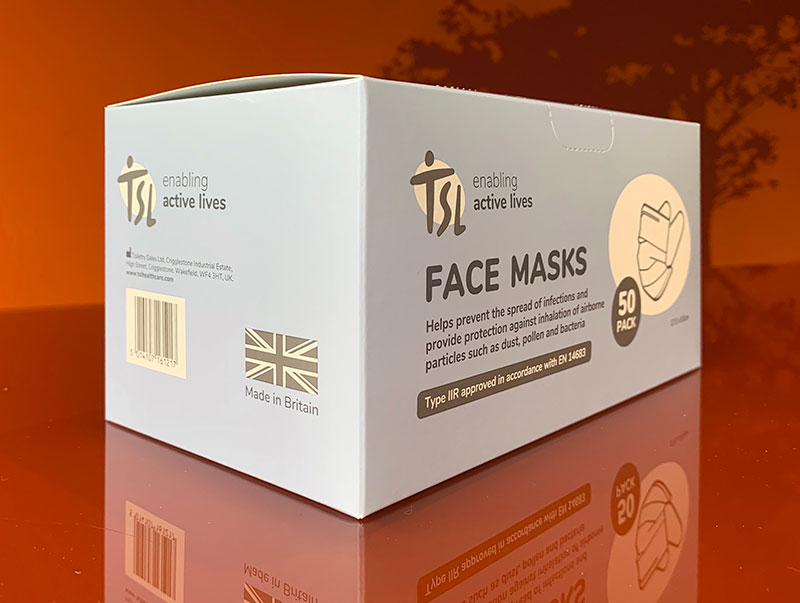 With face masks now an essential part of everyday life, it's easy to forget how difficult they were to come by in the early days of the COVID-19 outbreak. Reelvision Print customer, Toiletry Sales Limited (TSL) in Wigan, is one of a number of UK manufacturers turning its hands to producing disposable medical face coverings.
Since the end of July, it has been compulsory to wear face coverings in shops, in enclosed public spaces and when using public transport. Amid fears of a shortage, the Government has invested £14 million into the production of face masks as part of a push to produce one million per week and to reduce reliance from overseas.
TSL has over 35 years' experience in manufacturing and selling healthcare products in categories including first aid, feminine care and continence. The company has now installed two new production lines to manufacture face masks that were previously made and sourced from the Far East. TSL supplies its disposable face coverings to major UK retailers as well as the NHS, ensuring a steady supply for healthcare workers as well as members of the public.
Reelvision's fast turnarounds and adherence to PS9000:2016 pharmaceutical good manufacturing practice made us the ideal packaging partner to support this crucially important venture. Using supplied artwork, we are responsible for the design and manufacture of the cardboard dispenser cartons in which the face masks are packed.