An exciting update from our joint MD Gareth Bakewell…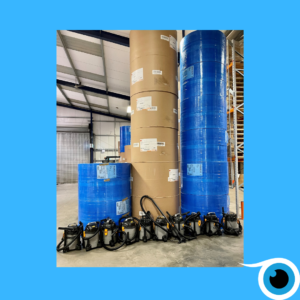 Picture the scene… right guys we're going to install a new mezzanine storage area right above our major production facility, creating an extra 3,000 ft² of production space, install a HVAC system plus LED lighting throughout the factory and build a new entrance to aid pre-press job processing… I want all this doing whilst increasing sales by 8%, maintain strict COVID measures and ensure we continue to offer the shortest lead times in the industry with a standard 10 day lead time!!…
I'm so very proud of how the Reelvision Print team reacted to this challenge. They switched their working hours to the night and at the end of each shift they meticulously wrapped every item of machinery in protective film to prevent any form of contamination. Subsequently every shift started with a full factory clean down prior to unwrapping every machine so production could commence. This involved the investment in 10 new vacuum cleaners!
Thank you to my amazing Reelvision Print team, you've demonstrated why our growing client portfolio put their trust in us to supply their packaging and how collectively we can accomplish tasks that on the outset look impossible.
2022 will see the completion of our factory upgrades, paving the way for the installation of an exciting new manufacturing line which will enhance our operation and ensure Reelvision Print stays at the forefront of folding carton production.